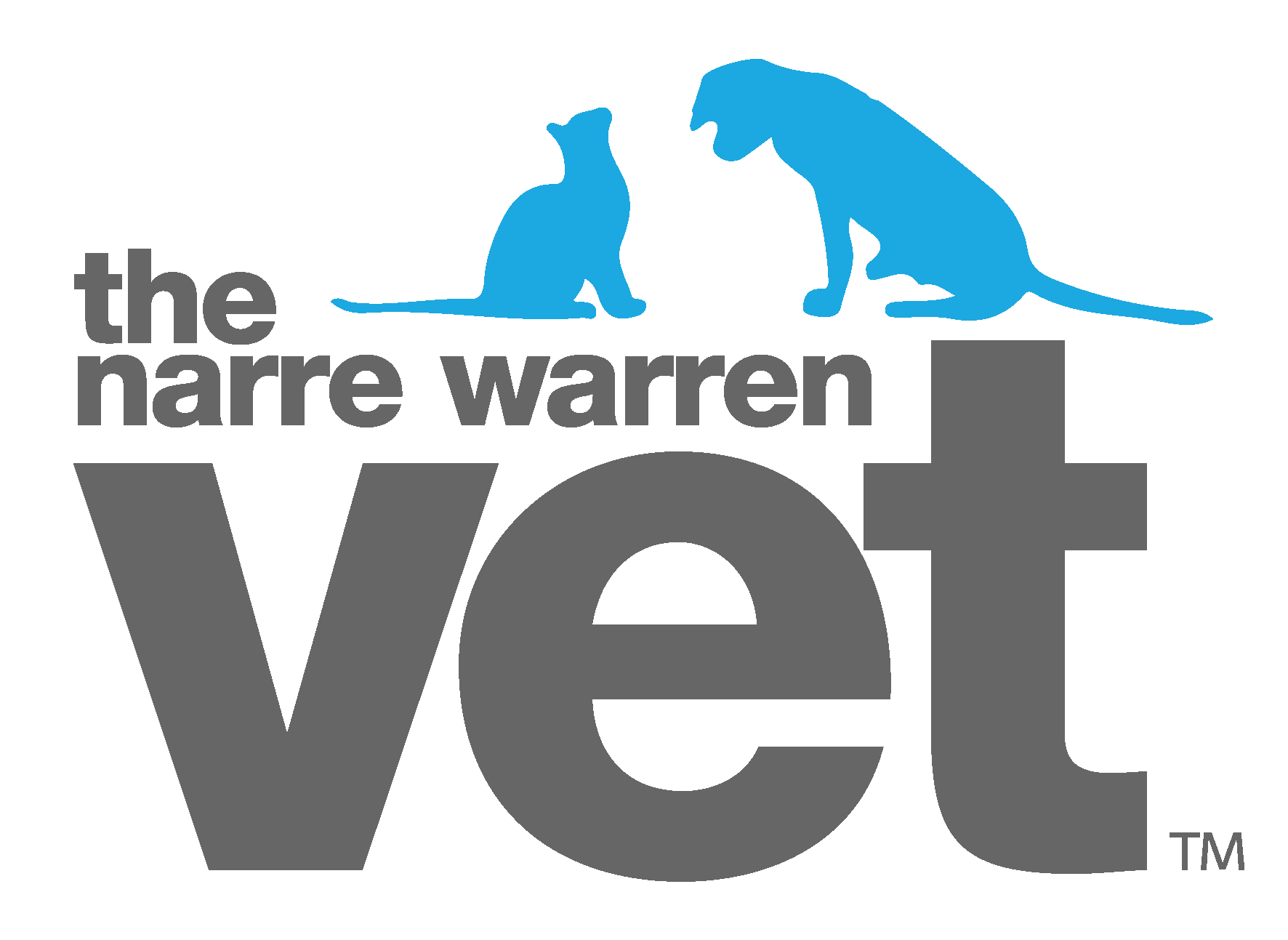 459 Princes Hwy
Narre Warren, VIC 3805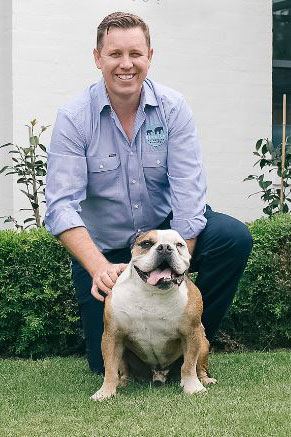 Dr. Thomas
Practice Owner
Thomas grew up on a farm in country Queensland where he developed a lifelong love for all animals, a strong work ethic and personal values. Thomas and his wife share their home with their son, and Herbie the Bulldog who will often pop out and say hello to clients and patients at reception.
After 18 years as a veterinarian, Thomas purchased the Narre Warren Veterinary Clinic in 2017 where he aims to bring continuous improvement and innovation to ensure our clients and their pets always receive the best possible care.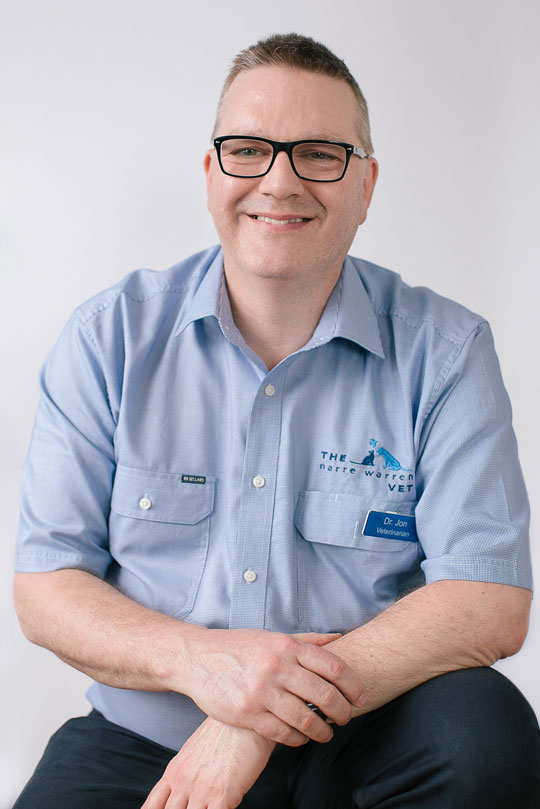 Dr. Jon
Jon joined the team as senior veterinarian at Narre Warren Veterinary Clinic at the end of 2013. Jon graduated from the University of Sydney in 1989. He first worked in a dairy practice in South Gippsland before moving to small animal practice in Melbourne. He was partner in a large suburban practice for 8 years and was Practitioner in Residence at the University of Melbourne in 2012.
Jon enjoys surgery and medical diagnosis and has a keen interest in helping people understand the needs of their pets. Jon shares his home with his wife, three sons and a menagerie of pets including Obi the Jack Russell, cats G.T. & Louie, two pugs Rosie and Ella, a horse called Greg, a miniature pony called Hercules and numerous chickens. When not at work he enjoys travel, playing music with his band and spending time with his family and pets.
Dr. Isabelle
 Isabelle is a University of Melbourne graduate and joined our team in 2019. 
She shares her home with an adorable Golden Retriever, Harley and an enthusiastic Flat Coated Retriever puppy by the name of Cooper. 
In her spare time, Isabelle enjoys baking, reading and running with Harley. 
Dr. Candace
Dr. Candace joined the team in January 2017 as an Associate Veterinarian. She graduated from The University of Melbourne in 2013. After 2 years in mixed practice in south-west Victoria she returned to be closer to family and friends. She has an interest in small animal diabetes and dermatology. In her spare time, she enjoys riding her 3 horses and relaxing with her 2 cats.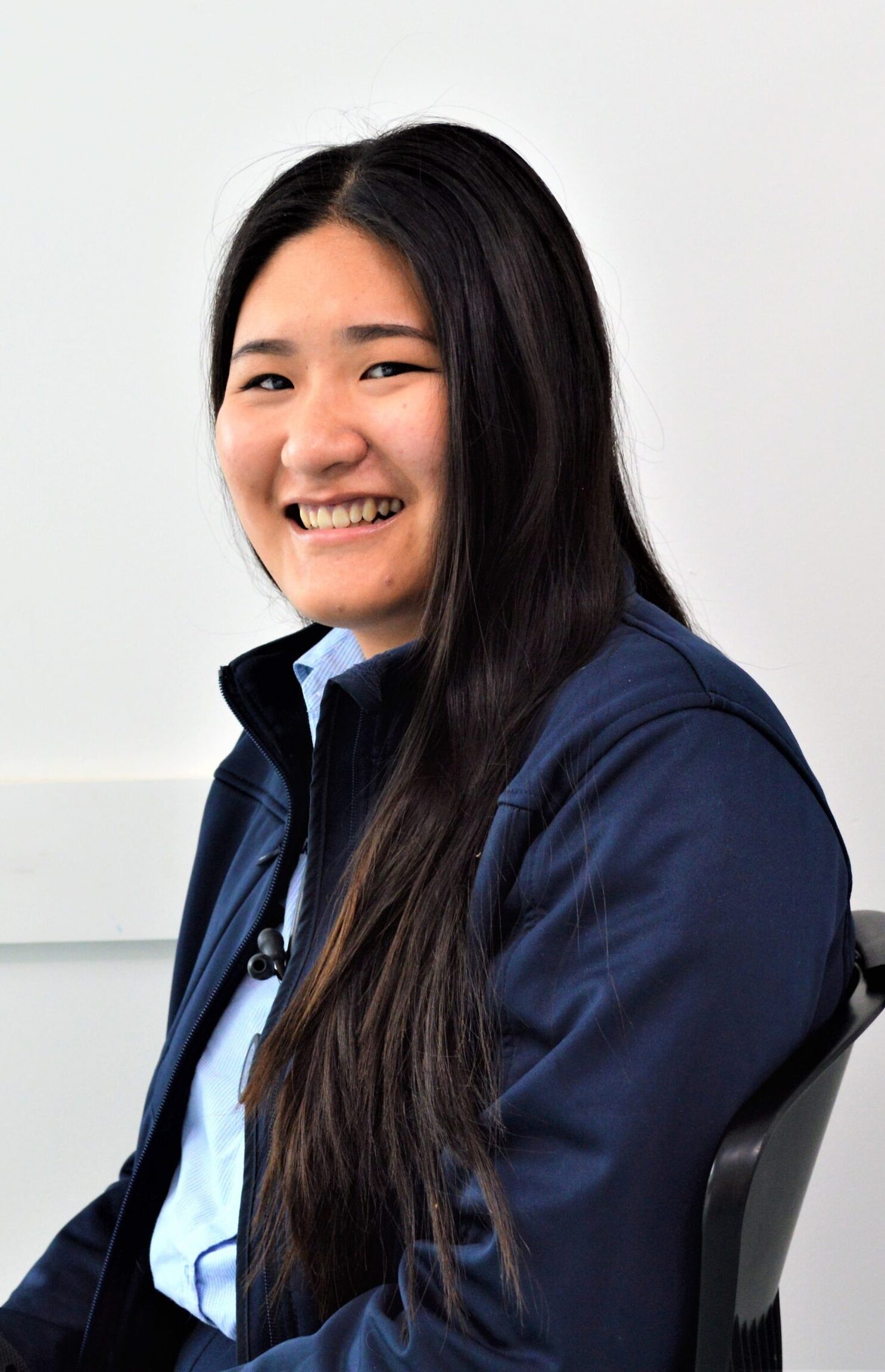 Dr. Amy
Dr. Amy joined our team in 2021 and has a keen interest in surgery, clinical pathology, and exotic pets. She loves meeting new clients and their fur babies and looks forward to building long lasting relationships with these families.
Amy shares her home with two adopted feline friends – Doom and Bumi. When these two are not demanding all of her attention, Amy enjoys sewing, knitting and embroidery.
Dr. Daniel
Dr. Daniel joined the team in 2023 and has a keen interest in all aspects of veterinary medicine with a particular passion for exotic pets (rodents, birds and reptiles) and wildlife.
Daniel shares his home with Dana the adorable (and very cheeky) Staffy x Mastiff and his partner Stephanie.
In his spare time he enjoys cooking and reading.
Dr. Mia
Dr Mia graduated from Murdoch University returning home to Melbourne to join our team.
Mia enjoys the wide variety that general practice provides as well as building on long term relationships with clients and their pets.
Mia shares her home with her partner and their rescue dog Maggie – a 40kg Bull Arab mix. She enjoys spending her free time reading and enjoying a good glass of red with her family and friends
Dr. Alix
Dr. Alix grew up in hot sunny Cairns and attended university in Townsville. Alix moved down to Melbourne in 2023 to enjoy the cooler weather.
Alix loves all aspects of being a vet with a particular interest in small animal medicine, clinical pathology, soft tissue surgeries and helping to care for sick and injured wildlife.
Alix spends most of her spare time with her big lovable Golden Retriever Ollie exploring their new home, hiking and camping, or tucked away inside with a good book.
Nurses & Support Staff
Our Support Staff include veterinary nurses and receptionists.
You will meet them at the front counter, where they will be happy to help with most general health queries as well as give sound advice on diet, heartworm, intestinal worming and flea control for your pet.
Our nurses perform many vital roles in our hospital.
They have extensive experience in animal care both while your pet is in our hospital and assistance with your outpatient care.
In surgical cases they supervise the comfort of inpatients before, during and after procedures.
Jess
Practice Manager
Jess has worked in the veterinary industry for over 18 years. She has been involved with the clinic for several years as a veterinary nurse while also completing a Bachelor of Animal Science and Management and a Bachelor of Veterinary Bioscience.
After becoming a Mum, Jess re-joined the team, stepping into the position of Practice Manager. Jess has a special interest in business development and loves working alongside the team to provide an exceptional service to our clients and their furry friends.
Jess shares her home with her husband and their two young kids. Their family wouldn't be complete without their two golden Retrievers Abbey and Jaxson, Hamish and Eric the cats, their ponies Nico, Henry, Violet and Trixie and their goats, cows, sheep, chickens geese and ducks (all with endearing names of course!) 
In her spare time Jess enjoys horse riding and spending quality time with her family and friends– camping, fishing, golfing and spending time at the beach have become the favourites!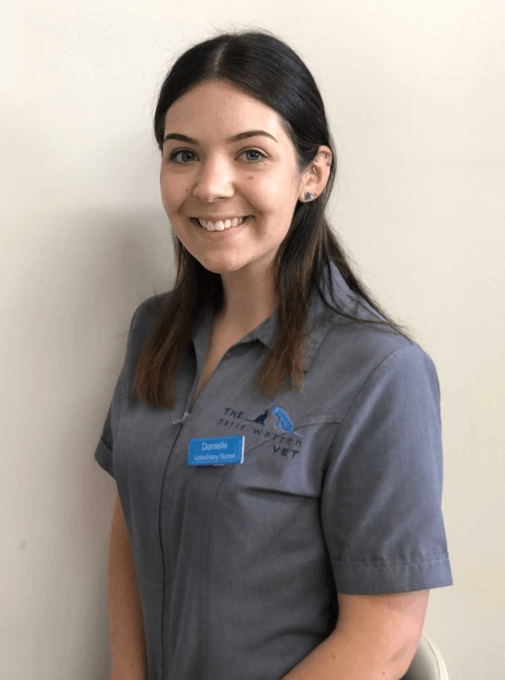 Danielle
Veterinary Nurse
Danielle is our Nursing manager, having joined the Narre Warren Vet Clinic in 2018. She has completed her Certificate IV in Veterinary Nursing.
She has always had a passion for animals, their welfare, behaviour and conservation and has previously completed a Bachelor of Science (Zoology major) at The University of Melbourne.
Danielle shares her home with husband Sam, Ollie the cavoodle, Kobe the Golden Retriever and two rescue cats named Crash and Stormy.
In her spare time, Danielle enjoys travelling the world and spending time with family and friends.
Jodie
Veterinary Nurse
Jodie joined the NWVC team in 2020 (what a year to begin a new job!) and brings with her a wealth of knowledge 
Jodie has been a Veterinary Nurse for 24 years, spending the last 9 working at an animal shelter. Although challenging, she found this role very rewarding . Jo is looking forward to re-entering a career in general practice and is excited to establish long lasting relationships with our clients and their beautiful pets.
In her spare time, she enjoys watching her children play Football and Cricket, holidaying in Bali and spending time with family and friends.
Jodie has two dogs of her own, who love going for walks and social play dates, and has a soft spot for cats – many of whom rule her household!
Abbey
Veterinary Nurse
We first met Abbey on our many visits to the coffee shop down the road from one of our sister clinics. It soon became clear that Abbey had a huge love for animals and we welcomed her into the NWVC team in 2021.  She is currently completing her Certificate IV in Veterinary Nursing. 
In her spare time, she loves spending time with her Kelpie Ralph, playing sport, working out and travelling. 
We can't wait to watch Abbey grow throughout her career as a Veterinary Nurse.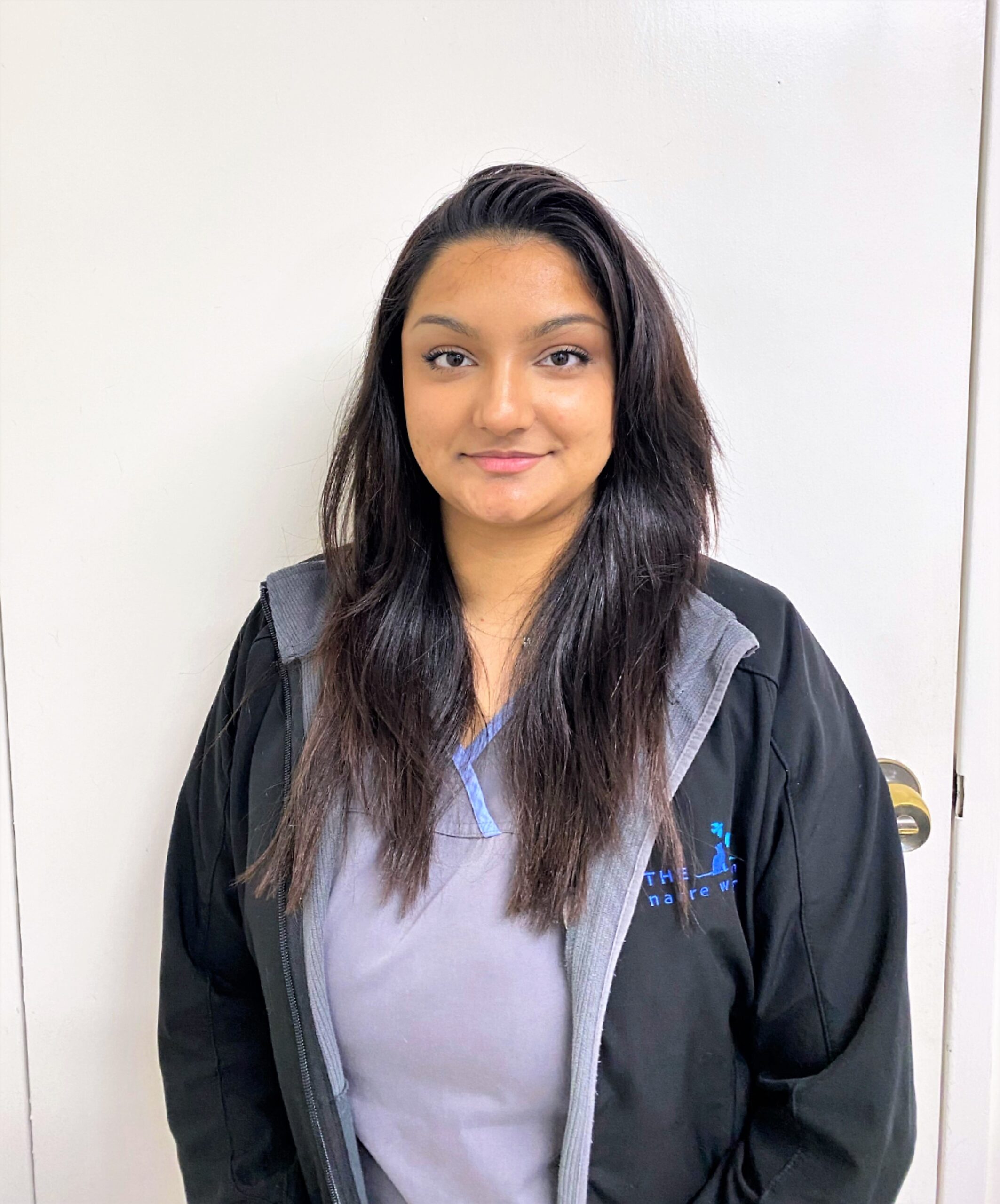 Vanessa
Veterinary Nurse
Vanessa joined the team in 2022 after completing a Bachelor of Veterinary and Wildlife Science. 
Vanessa has always had a keen interest in wildlife, having volunteered at a wildlife sanctuary and an animal rescue helping to rehabilitate injured animals. She is now studying her certificate IV in Veterinary Nursing and is excited to expand her knowledge and skills as a veterinary nurse and aspiring puppy school teacher. Vanessa also has a strong passion for graphic design and is hoping to integrate this knowledge with the veterinary world to develop education around animal care. 
Vanessa shares her home with Buddy the Chihuahua and Tugra the French Bulldog, her Quaker parrot Blue, bunny Sebastian, various Fish, and the occasional rescue kitten.
Ally
Veterinary Nurse
Ally comes from a background in Biomedical research, having completed her PhD and postdoctoral research in biochemistry and immunology, investigating changes to cartilage in osteoarthritis.
Ally has always loved animals and decided to make a career change into veterinary nursing and has never looked back. She is a fully qualified veterinary nurse with 9 years' experience in general practice.
Ally has always had a special way with animals and is considered by her family as the animal whisperer. She has a strong passion for surgical nursing, puppy school and helping families through the loss of their furbabies.
Ally shares her home with cats, chickens, and a special 3-legged dog Bridgette. In her spare time she loves to bargain shop, take road trips and spend time with her family, especially her young niece and furbabies.
Make an Appointment Online